Even while the idea of an offsite meeting is not new, the advantages in the post-COVID era are more significant than ever. Physical annual meets are now more vital than ever, after a year in which there has been a dramatic change in the style and structure of how we work.
Constantly attending meetings in the same office setting or, even worse, attending them virtually can get tedious. In the long run, such monotonous work culture may hinder the growth of individuals and organisations as a whole.
Thus to bring life to discussions and brainstorming sessions while networking with each other, Digi Acai organised a residential annual offsite meeting at Gurgaon. More than an annual meet, it was a fun meet for all of us where we interacted with each other for the first time.
At Digi Acai, we firmly believe in the fact that a healthy and pleasant environment fosters the growth of innovative ideas and aids in the conception and implementation of various problem-solving strategies which are a must for any D2C SEO Agency.
Come have a sneak peek into our team-strengthening Annual Meet'22.
Communication gets more engaging when we meet in person.
Established during the COVID era in the year 2020, Digi Acai grew from a team of 2 to 20 by April 2022, handling 50+ SEO & Content Projects.
Being a virtual team we never met each other in person. In such a case an ice-breaking activity serves as the need of the hour, wherein the team can ensure that both new and existing employees feel engaged and connected to each other, even when we are working from different locations. Engaging in nature, icebreakers foster rapport and communication within the team.
Hence Digi Acai Management hosted an amazing Residential Conference & team meeting in Gurgaon. The meeting strengthened our professional relationships as we shared a sense of camaraderie by getting to know one another. Not only did it encourage networking and communication among us, but we felt like a more productive part of the organisation while aligning with organisational goals.
Below are some of the highlights of the engaging sessions and activities!
Virtual to Actual – The Icebreaking Part
Unforgettable Highlights from the Kick-off Meeting
Strong teams are built through activities that are intended to bring people together. Just as in sports, players and coaches of winning sports teams frequently point to their ability to function as a cohesive unit as the reason for their success, the same goes true in an organisation as well.
Hence, to know each other better and align with the organisational goals, engaging activities and sessions were carried out during the meeting. Every bit bought with it lots of knowledge, fun and excitement.
And, not to forget, the kick-off part of the meet, a relaxing time at the swimming pool and the smashing evening Dj Party was enjoyed by all. Have a look at the moments captured from the meet!
On day 1, engaging and fun team-building activities were carried out by Ashish and Ekta's event team. We enjoyed our hearts out! Here are glimpses:
Activity 1: How Many Times You Can Touch The Balloon
Stay focused or else you'll lose!
Activity 2: One Word Dum Charades
Our show-stopper activity.
Activity 3: Dance Freeze
Here we are exploring the fun and mindful movement.
Activity 3: Paper Dance
Standing Together, Standing Strong.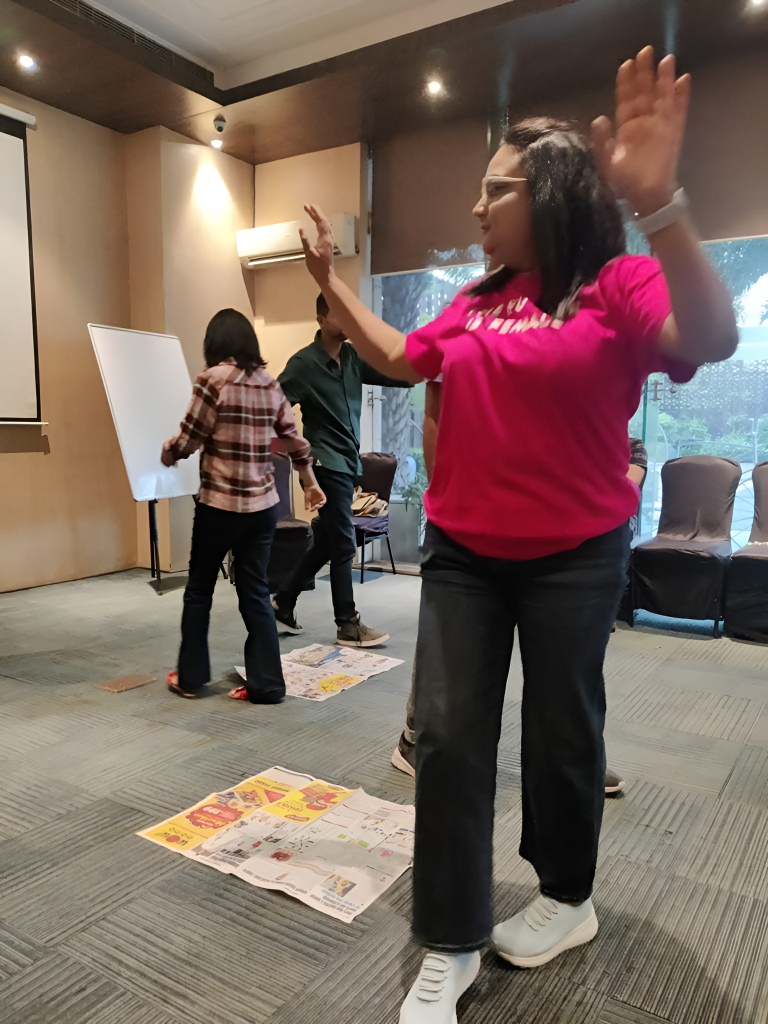 On day 2, Neha Agarwal led the session and discussed the company's vision, growth and way forward. The conference was followed by a gift distribution ceremony and hi-tea.
Conference – Defining Goals
Aligning with the organisational goals and opportunities.
Gift Distribution
Cool gifts are loved by everyone! Here are we receiving gifts from our Mentor and Advisor, Pankaj Chauhan.
We got to engage with each other during photo sessions, fun at the swimming pool and Dj Party night. Have a look!
Let's get clicked, all in one frame
Splash! Splash! Splash!
Reliving stress at our best, happy swimming pool moments!
DJ Night
Dancing our hearts out!!!
Meet the Star Host
Meet the backbone of our organisation, Neha Agarwal. This amazing fun and learning experience wouldn't have been possible without her. Here is what she has to say about the meeting!
Digi Acai went into work-from-home mode as soon as it was launched due to Covid. We grew well in two years, and it wasn't possible without the team's efforts. We are super proud of our amazing people at Digi Acai. It was awesome to meet them for the first time on Digi Acai's Foundation Day (31st Mar 2020) and we hope to do it every year from now on.
Since we are a women-led organisation and promote a work culture where we ease the hardships that working mothers go through, our millennial moms weren't left behind during all these fun sessions and activities. Being a mom herself, Neha Agarwal provided enough space and flexibility to moms in the team to have their babies onboard with them during the meet. Here are our little brand ambassadors!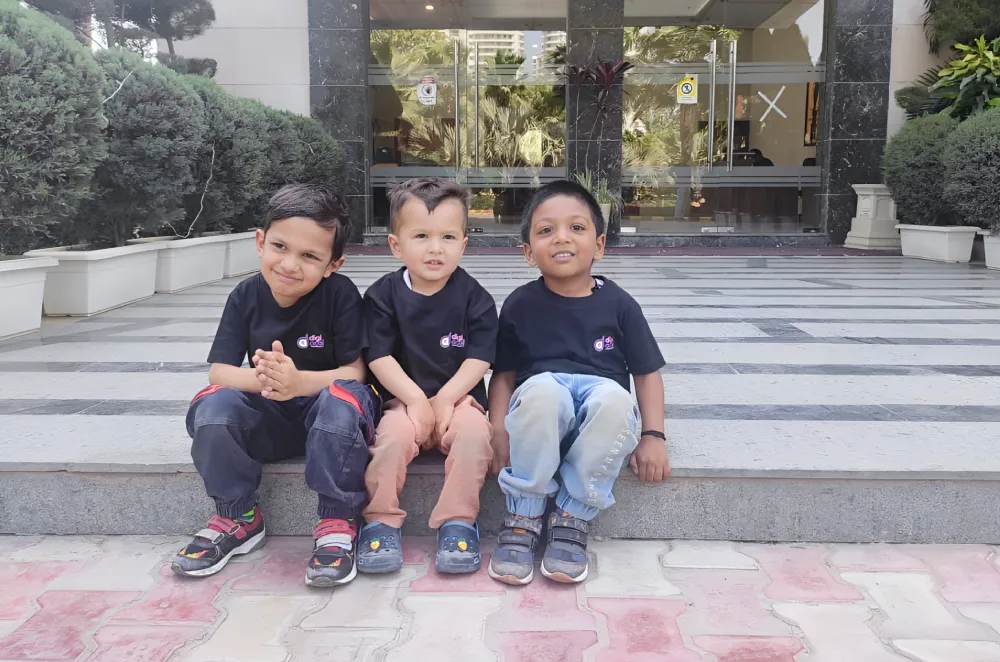 What Digi Acai'ians have to say
What an amazing event it was. Meeting Digi Acai team for the 1st time. Thanks, Neha mam for hosting such an insightful and memorable event🎉. It was really fun with the team, The best part is the games and the DJ night. We all were exhausted and still not stopping. Gathering such memories are precious.
Shubham
I joined Digi Acai as an Intern. I was very apprehensive before I had the chance to meet and get to know my seniors. But after meeting them, I felt welcomed and greeted warmly by each one. This made me feel hopeful that this is going to be an exciting and excellent journey full of learning opportunities while working together with everyone here, and indeed, it has been a rewarding experience. I got to develop myself professionally and gain valuable skills. Not only that, but it also helped me build relationships with colleagues and become more confident in my abilities.
Navneet
Warning
: Error while sending QUERY packet. PID=13283 in
/home/eok3l9epy3dy/public_html/wp-includes/class-wpdb.php
on line
2349
Warning
: Error while sending QUERY packet. PID=13283 in
/home/eok3l9epy3dy/public_html/wp-includes/class-wpdb.php
on line
2349
It was a pleasure meeting with the team for the 1st time. Gained so much exposure, and new experience. We played different games and had fun activities. I am thankful to Neha mam for organizing this meet-up. 🥳
Ruchi
I started my full-time career with Digi Acai 2 years back, During the annual meet It has been an exceptional experience meeting with each and every one of my colleagues. Two days of learning, knowledge sharing, way-forwards, amazing quality time, and of course, good food! 😉
Gauri
Warning
: Error while sending QUERY packet. PID=13283 in
/home/eok3l9epy3dy/public_html/wp-includes/class-wpdb.php
on line
2349
Warning
: Error while sending QUERY packet. PID=13283 in
/home/eok3l9epy3dy/public_html/wp-includes/class-wpdb.php
on line
2349
Events like these bring all of us together & unite us as a team. A big thanks to our star host & everyone who made this event super fun & successful.🤗
Varsha
It was a great experience for me at the Digi Acai Annual Meet that happened in Gurgaon. After delivering a baby, I lost all hopes of doing a job again but Digi Acai made this possible. This awesome excursion has been enjoyed by my kid too. The amazing activities, party and most important the togetherness of the team along with friendly CEO & business heads made this event a memorable one. Thanks, Digi Acai:)
Shruti
Warning
: Error while sending QUERY packet. PID=13283 in
/home/eok3l9epy3dy/public_html/wp-includes/class-wpdb.php
on line
2349
Warning
: Error while sending QUERY packet. PID=13283 in
/home/eok3l9epy3dy/public_html/wp-includes/class-wpdb.php
on line
2349
It was a great experience. In team outings, team bonding was also developed, a kind which was not developing in online meets. We got to know each other, we had lots of fun, and the arrangement was great. The team outing helps us to relax our minds, after which we work with great efficiency. I would like to thank Neha Agrawal ma'am for the team outing.
Abhishek
Everyone was looking forward to this two-day off-site meeting since it was our first time meeting after almost 2 years of WFH. We shared a great time together, and even our children enjoyed it a lot. We laughed, played games, discussed work, and partied.
Taneesha
Warning
: Error while sending QUERY packet. PID=13283 in
/home/eok3l9epy3dy/public_html/wp-includes/class-wpdb.php
on line
2349