How We Grew Indian Handicrafts Website Traffic by 8X in 11 Months!
As of 2023, we have seen enormous Indian brands grow significantly through SEO and organic search. This case study of an Indian handicrafts D2C brand illustrates the effectiveness of SEO. With a strategic approach to SEO, we increased organic search traffic eight times in less than a year.
About the website
It is an online handicraft store in India dealing with home essentials, decor items, kitchenware, gifting items, and more.
Objective

Our SEO campaign was aimed at increasing organic search traffic and revenue for our client's website. In order to achieve this, the site must first rank for more and more keywords with high search volume.
The Challenge
highly competitive niche and marketplaces dominate the search results
Low domain authority
Very low brand visibility on Google search
The Solution
It all comes down to the SEO strategy, which has a long-term focus. Using white-hat SEO techniques, we optimized the website as much as possible. A unified SEO strategy (on-page, off-page, technical) and content processes delivered a wonderful long-lasting result.
We took the following steps to achieve our goals:
Identified high search frequency keywords and conducted an in-depth keyword analysis.
In addition, we paid attention to the keywords our customers are using most often, i.e. high search volume keywords.
Detailed Keyword List Created After Mapping
Regularly developed SEO content in the form of above-the-fold texts, meta tags, and SEO texts (in the footer) by including keywords from our extensive list.
Optimized meta title & description for wall decor page.
Continually building links. By creating guest posts on high-quality domain authority websites, we maintained link frequency.
Performing a technical audit has revealed a few 404 errors, duplicate meta descriptions, empty meta descriptions, and excessively long URLs. None of these are issues, but they should be resolved to ensure the site is optimized to its full potential.
To develop search engine authority, we used our content pillar technique to first choose the broad topics our client wanted to rank for, then created content based on specific keywords connected to that topic, all linked to each other.
The Results
From 40 keywords in top 10 to 800 keywords in top 10
More than 5000 keywords started ranking
Traffic growth by 8X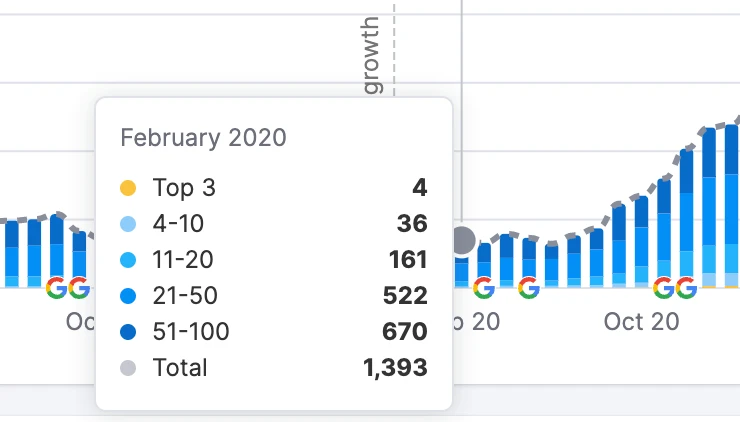 Conclusion:
It was an uphill battle to increase traffic for our client in a highly competitive area, but the work paid off handsomely.
It wasn't as easy. Several back and forths occurred regarding keywords, content creation, and overall strategy.
In spite of this, our client's website traffic increased significantly as a result of a well-planned SEO strategy.
You can replicate this level of success for your D2C brand by using the SEO method described in this case study. You can also take advantage of our SEO services.